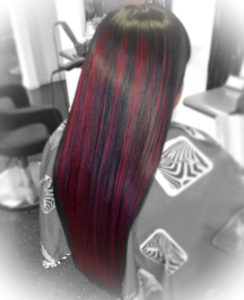 ‼️‼️HAIR IN STOCK‼️‼️
Hazel Alexandra Bundles come in Natural Dark Brown body wave texture.  These bundles can be colored any color you desire, they can also be flat ironed or wash and air dried so that it reverts back to its natural body wave. Sulfate free shampoo is recommended, and with proper maintenance the hair can be reused for 6-12 months. Deep condition regularly to preserve its quality <3
10″= $65
12″= $70
14″ =$75
16″ =$80
18″ =$85
20″ =$90
22″ = $95
24″ = $100
14-16-18 = $220
16-18-20 = $235
18-20-22 =$250
20-22-24= $265
$20 off full install
Text 347-746-4247 to order
---
Hair Care Information
Co-Wash the hair prior to installing, conditioner washing is helpful but not necessary. Its optional but can help eliminate any debris or smell the hair might have caused by the hair distribution factories.
Once installed, be sure to use a paddle brush with a light serum and brush hair daily.
To avoid heat damage, wrap your hair or pin your hair up before bed, instead of recurling and flat ironing every morning. This will help preserve the quality of the hair.
Wash every 2-3 weeks with a sulfate free brand (Organix Brand works well) Deep condition once a month as well
After removing your hair wash and deep condition it (silicon mix works well) and store in a silk bonnet after it air dries to have it ready for your next install.